Is a Fabric Reinforced Roof Right for You?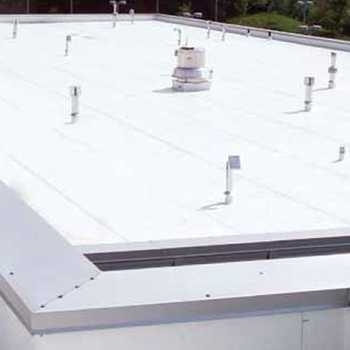 Today Kauffman Roofing in Jamesport is here to help you decide if a fabric reinforced roof is right for you. With all of the commercial roof options out there, it can be tricky to understand what works best for your specific roofing needs.
At Kauffman Roofing, you can always ask us, as we have a wide array of commercial roofing solutions, years of experience, and use high-quality roofing materials. We can create a customized roofing plan to meet your unique circumstances and time constraints. We always work with our clients, making it easy to meet their needs and budget. Today, we highlight the fabric reinforced roof. Hopefully, this article can help you start the process of determining if this type of roofing will benefit your commercial building or if another option will provide better results.
Fabric reinforced roof systems are unique in that they are applied to an already existing roof. They are used to extend the life of metal, concrete, EPDM, and ISO board roofs and non-smooth substrates. They combine the best attributes of a strong and durable single-ply system with a seamless, leak-proof membrane. Read on to learn more about the benefits and if this type of roof is right for you.
Avoid Tear Offs
Avoid the expense and the inconvenience of a roof tear off by choosing a fabric reinforced roof instead. This versatile and durable system is applied on top of your already existing commercial roof, so there is no need to deal with the annoyances of a roof tear off including everything that goes along with paying for both the new materials and old roof material disposal.
During installation, there is no disruption to your business. No need to worry about downtime that can impact your customers, vendors and bottom line. Your commercial roof is custom made and installed on-site. Also, all re-coats come with a warranty and can be applied for as long as you own the building. There are perhaps no other roofing system that compare on these points.
Low Maintenance
Often exceeding the warranty period, fabric reinforced roofs will also provide a roofing surface requiring very little maintenance. The coating is dirt resistant and not susceptible to discoloration. Hence, annual or bi-annual cleanings, inspections and potentially minor repairs are all that it typically takes to keep them white, reflecting heat, and working great for your commercial building.
Energy Efficiency
The average commercial roof absorbs a considerable portion of the UV light it receives. On the other hand, fabric reinforced roofing reflects upwards of 80% of the UV light streaming down. This is going to help with reducing energy usage and potentially save you money on energy costs each year of the roof's lifetime. Heating and cooling costs may decrease by 30% annually with this type of roof installed.
Durability
Using a combination of flexible polyester fabric, white reflective top coat, and liquid-applied acrylic membrane, a fabric reinforced roof offers unmatched durability for the long run. The multi-layered system provides superb protection against the elements all year long and additional structural support for the existing system in place. The extreme effects of wind and hail are kept at bay with this durable roofing system applied. You can rest at ease knowing that your commercial roof is safeguarded against the most extreme weather conditions.
Better Protection
Typically, the first areas to suffer on any commercial roof are the seams. They are the most vulnerable areas of any commercial roof and will need the most attention and maintenance to keep efficiently sealed. The seams are most susceptible to moisture as water can creep into them and start making trouble for your entire commercial roofing system.
Keep water at bay by choosing a fabric reinforced roof installed over your existing roof system. The acrylic top-coat is seamless and offers superior protection from moisture. It seals your roof off from the possibility of water intrusion which is always a significant concern for all commercial roofs.
Recoup Costs
You are likely to begin to recoup the costs of this roofing system sooner than you realize. For many of our own customers who go with this roof type, the return on investment is easy to see as a new fabric reinforced roof pays for itself so quickly that it's often still under warranty. This happens just by the energy savings that they experience after installation. While your roof might perform differently and all situations are unique, this is an investment that will likely pay you back over time.
Also, you may be able to file deductions, federal tax rebates, tax credits and more for choosing this option instead of a conventional commercial roof. Be sure to ask your utility company and tax advisor about how you can benefit financially by making a better investment this year.
Warranty
The peace of mind you deserve is available if you decide to go with a fabric reinforced roof system. At Kauffman Roofing, we always make sure you are covered.
The entire team at Kauffman Roofing strives to meet a high standard of professionalism. We will always help you by providing a superior choice of roofing solutions no matter your needs, operating budget and timeline. No project is too big or too small, and every client will experience our dedication to offering only quality products and professional services for their roofing project.
Is a fabric reinforced roof right for you? Our friendly and knowledgeable commercial roof experts can help you figure that out, as well as walk you through all the options we offer. You can trust in our solid reputation for providing our industry-certified roof contractor services and high-quality workmanship.
Contact us today and let's get started on your commercial roof project.