How to Restore Your Roof with Conklin's Metal Roof System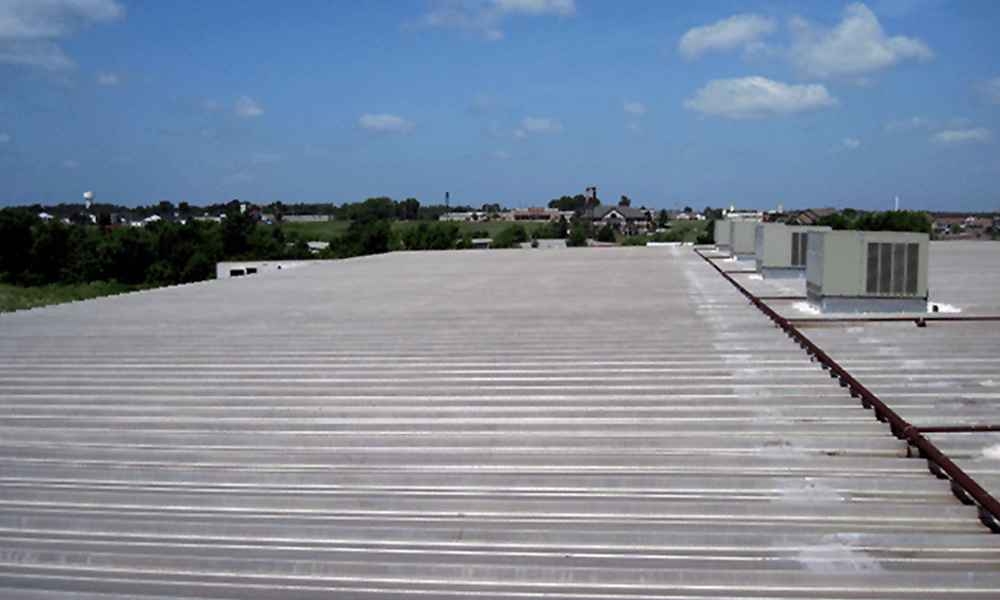 Our roofing experts at Kauffman Roofing in Jamesport know how to restore your roof with Conklin's metal roof system. The system preserves an existing metal roof, saving you money by not having to do costly metal repair or replacement. So, when you are looking for a waterproof system for your roof, we are an industry-certified roofing contractor with the experience and roofing expertise to meet all your roofing needs.
The Conklin metal roof system offers a waterproofing system that prevents rust, stops leaks at the seams, and provides an energy efficient, long-lasting and attractive coating that will last a long time. It can handle metal design flaws, stop leaks, reduce your air conditioning costs, and in some circumstances, it will actually pay for itself in a few years. The roofing system is also easy and affordable to repair and renew.
The system strengthens the seams with fabric reinforcement embedded in acrylic elastomeric roof coatings. Premium caulking seals the exposed fasteners from the weather. And the entire roof is protected by one of Conklin's industry-leading roof coatings.
The Conklin metal roof restoration uses a quality bright white finish that will help protect the roof from movement by reducing thermal shock. The system will help keep the heat out of your building by reflecting up to 85 percent of the sun's rays. This also helps reduce Heat Island Effect which increases the severity of storms in cities because of all the black roofs, pavement, and dark buildings that keep the heat trapped and raise the temperatures.
Your business may even be able to see some tax savings by reporting the metal roof restoration as a repair and maintenance cost in the year you have the work done, instead of a full roof replacement which must be capitalized for tax purposes.
In addition, there are non pro-rated material warranties available. The building structure is preserved by a lightweight restoration coating and the system will extend the roof life because cool roofs will last longer.So, here's how to restore your roof with Conklin's metal roof system.
So, here's how to restore your roof with Conklin's metal roof system.
Prepare the roof.
What you need to do to prepare the roof depends on the age of the metal roof, surrounding conditions, whether or not new panels are added because of the modifications to the roof, or if bad metal or skylights need to be removed. Conklin's Rust-Off is applied over the roof, which allows the system to bite into the metal.
Power wash the roof.
The roof is cleaned with 3500-4000 psi pressure washers with turbo tips to get the metal roof clean and it is inspected. This helps the roofing system to not be affected by any airborne dirt and debris.
Prime with a rust-inhibiting metal primer.
Conklin's metal ready universal primer is a latex based primer that cures to a durable, flexible finish. It adheres to a properly prepared surface extremely well and will stop any further rust from growing and coming through. A one-coat application is applied at a rate of 225 square feet per gallon. When applied, it is a barn red color.
Use spray foam to eliminate water from collecting.
Commercial metal roofs usually have a relatively low slope, so the foam is sprayed from the opposite side of the ridge cap down to any vents creating a cricket in front of them so water is shed to the sides of the vents and not pooled up right in front of them.
This is important because a common reason for leaks in metal roofs is that water can't run out of the panels, gets in the joints, and creates rust on the metal.
Seal all horizontal seams with tape.
The seams on a metal roof tend to be the leaky areas both horizontal and vertically. The leaks are often found on pipes, penetrations, skylights, fasteners and anywhere expansion and contraction has taken place.
So, all horizontal seams need to be sealed. Using 6″ Butyl tape, the top edge of the tape is sealed with Conklin's Kwik Kaulk to smooth out the transition for the water to cross over the tape. Tape the corners to add protection from water seeping in.
Seal all vertical seams.
The metal roof gets kinks in it by having people step on it wrong or sometimes a strong wind can open up the seams. Fasteners also wiggle loose and allow the seams to move, which break their seal and tends to allow water in. If the installation was not done by an experienced professional, sometimes the metal panels are not put in correctly.
Because of those reasons, every seam on the roof gets sealed with a base coat and fabric allowing the roof to basically be a seamless roofing system. The Spunflex fabric should be placed above the seam but below the fastener heads to eliminate tenting.
Seal all fastener heads.
The roofing system fasteners should be checked to make sure that they are all tight. If a fastener is loose, it is re-fastened back into the roof or replaced with a larger fastener to give it a better bite into the framing.
Sometimes the rubber grommets are crushed too hard during installation so they do not seal properly, or they split and the sun's UV rays dry them up over time. If that happens, water can get into your building and cause a roof leak or damage to wooden rafters.
Making sure the fasteners are inserted properly is important because there are approximately 20,000 fasteners per metal building on a 20,000-square foot building. The Conklin's system fastener grade Kwik Kaulk is made for just that purpose. It settles over the heads of the fasteners and down onto the metal to seal the fastener in tightly.
Put a premium top coat on.
Then the entire roof is coated with one of Conklin's premium top coats to help protect it. It is applied at 1.9 gallons per square over the entire roof. This gives the flat metal roof a nice, white, reflective finish that has a high dirt resistance and will keep your roof looking good for many years. A light gray or light tan finish colors in top coat is also sometimes used.
If you want to have us show you how to restore your roof with Conklin's metal roof system, our roofing experts at Kauffman Roofing in Jamesport will come take a look at your building. Whether it's commercial roof installations, roof repair, or other roofing services, we have the solution to your roofing problem. Call or contact us today for more information.