Standing Seam Metal Roof Installation Missouri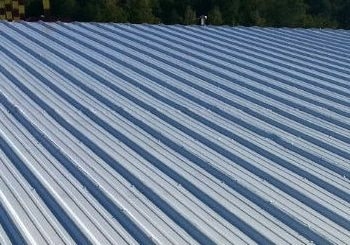 Standing seam metal roofing systems are an extremely effective roofing system. These types of roofs are durable and weather-tight for residential homes.
Some other positives of a standing seam metal roofing system include:
They have a very clean aesthetic look

Resistant to hail and wind making them very durable
No Fasteners visible on the surface
Fasteners do not wear over time since they are not exposed to the elements
Significantly outlasts shingle roofing
Why Install a Standing Seam Metal Roof?
Standing seam metal roofing systems are a great route for anyone looking to improve the look of their home or increase the durability/lifetime of their roof. While these types of roofs are more expensive they can outlast shingle roofs by 2-3 times, lasting 40-70 years depending on what materials are used. These along with a few other reasons make for a great option when installing a new roof.
Minimal Maintenance
Durability (no rust or fading in the sun)
Wide range of options in materials (colors, shapes, widths)
Energy Efficient (Can reduce heating costs due to highly reflective surface)