Single Ply Membrane Roofing System in Missouri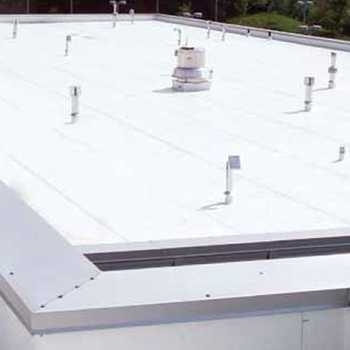 Conklin's Single Ply Membrane Systems are made with premium thermoplastic membranes. During installation, membrane rolls are overlapped and weld together to form an exceptionally durable, waterproof, an energy-efficient shield that will deliver unsurpassed protection for years to come.
The class of commercial roofing membranes commonly described as "single-ply" are flexible sheets of compounded synthetic materials that are manufactured in a factory to strict quality control requirements. There are three major categories of single-ply membrane roof systems: thermosets, thermoplastics, and modified bitumens.
Single ply roof systems provide the long-lasting durability your roof needs along with the strength and flexibility which are critical to its application. The advantages of pre-fabricated sheets are the consistency of the quality of the products that are manufactured, the versatility in their attachment methods, and therefore, their broader applicability.
Stops leaking roofs with superior waterproofing.
Offers excellent protection from wind and hail.
Offers fire and chemical resistance.
Increases energy efficiency and lowers utility expense with its cool, white reflective surface.
Can be applied in all seasons, performs in all climates.
Up 20-year warranty available.
To learn more about the single ply membrane roof systems and whether they will work for your commercial building contact Kauffman Roofing today.