Spray Polyurethane Foam Roofing System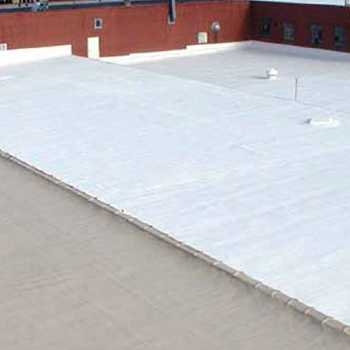 At Kaufmann Roofing, we know that installing a Conklin's spray polyurethane foam roofing system or maintaining or repairing an existing SPF commercial roof offers a wide variety of substantial benefits to a commercial building owner. With the rise of energy costs, most business owners are exploring ways to ensure their energy costs are managed to offset the rise in energy costs.
Conklin's SPF System is a great way to provide high-grade insulation on both roofing and interior wall application for top-down protection from the elements. An SPF application effectively controls air filtration, adds building strength, and reduces cooling and heating costs. During the restoration process, each problem area is systematically addressed, repaired, and resealed; then the entire roof is sealed with a reflective finish coat.
The foam roof insulation solution that Kauffman Roofing will install on your building will change an existing, non-energy efficient roof into an environmentally friendly "green" roofing solution that will help manage a commercial building owner's energy costs. The spray polyurethane roofing system will pay for itself in a few short years due to the energy-efficient effect of the product.
Spray Polyurethane Foam is extremely lightweight – about eight oz's per square foot and can be applied over most existing roofs without surpassing the load capacity of the building. Amazingly strong, the SPF product can easily withstand light foot traffic and other weight load bearing requirements.
Conklin's foam roofing systems have met the most stringent requirements for a variety of industry groups, such as Factory Mutual, Underwriters' Laboratories, and are recognized by the International Conference of Building Officials. No matter what system you choose, Conklin has you covered for years to come.
Eliminates air infiltration – the number one cause of energy loss.
Offers an impressive insulation value of R-5 per inch.
Adds structural strength without adding much weight.
Can be applied to most existing roof surfaces.
Withstands hurricane-force winds.
Can easily correct damaged substrate and/or poor drainage.
Will not absorb water due to foam's closed-cell insulation properties.
Reduces sound transmission.
Is fast and easy to repair or re-coat.
If you have any questions on Spray Polyurethane Foam Roofing System's, please contact Kauffman Roofing today!