Roof Leak Repair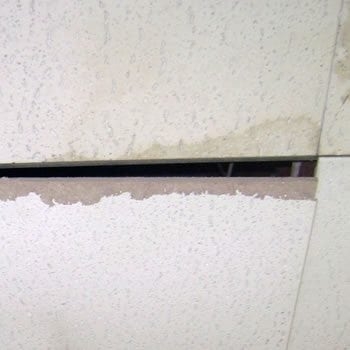 Roof leak repair is one of the most common repairs that we make, every building eventually will encounter leaking problems. A leaky roof is a serious nuisance and left untreated, it can cause a tremendous amount of damage to your home or commercial property. If you need roof leak repair work in a hurry, the company to trust in is Kauffman Roofing. We serve the cities of Jamesport, Kansas City, Chillicothe, St. Joseph, and others in Missouri.
All roof leaks develop from direct causes. These include improper installations, age and deterioration, and natural "acts of God" like hail and wind damage. We offer roof repair services to just about any type of roofing system you may have.
Obviously, there are some roofs that are just old and need to be replaced entirely. However, in many instances, Kauffman Roofing can facilitate a repair to your roof that can provide you some time before installing a new roof. Our experienced estimators will determine if your roof is repairable after a thorough inspection. They will report to you all of their findings so that you can make an informed decision.
At Your Service
Our experienced team of roofing professionals will work quickly and efficiently to fix your leak and undo any damage your roof may have incurred. We have the tools and skills to quickly locate the source of your leak and have it patched or sealed as necessary. And when you hire us for roof leak repairs, you'll benefit from our:
Reasonable rates
Prompt service
Knowledgeable roofing professionals
We value our customers in Jamesport, MO, and we pledge to provide prompt, courteous service, no matter the scope of the job. So if you're dealing with a leaky roof, don't wait until the problem escalates. Contact Kauffman Roofing today for roof leak repairs.