Kansas City, Missouri Commercial Roofing Contractor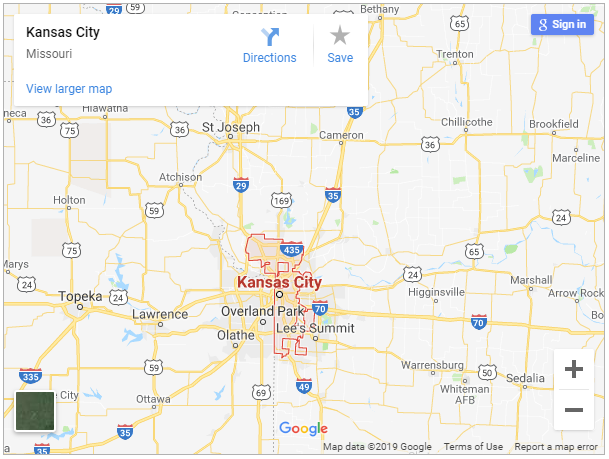 Map of Kansas City, MO
In need of a commercial roofing contractor near Kansas City, Missouri? Kauffman Roofing, an industry certified roofing contractor, has the expertise to meet all of your commercial roofing needs. We offer:
Roofing services
Roof leak repairs
Commercial roof installations
Commercial roof repair
Whether your commercial property is in Coleman Highlands, the Power & Lights District, up the street from the Green Lady Lounge, smack dab in the middle of downtown Kansas City, or nestled in the quiet suburb of Parkville, Kauffman Roofing is the only name you need to remember for flat roof repairs or full-blown roof replacements, including SPF roofing systems and membrane coatings.
High Quality Workmanship-Our Promise
Just like the amazing barbecue Kansas City is famous for, superior results require keen attention to detail and a true passion for your craft. That's why our experienced team at Kauffman Roofing only uses premium materials and proven techniques. And to ensure top-notch results, we never cut corners.
Kauffman specializes in preventative maintenance, roof repairs, and replacement, however, we can also customize a new-build commercial roofing system. This includes full concept design services, your needs assessment, specification writing, and value engineering options.
We work hard to satisfy every customer here in Kansas City, keeping your best interests in mind from start to finish. Contact us today to schedule an estimate.
Commercial Roof Repair
Has your building's roof sustained extensive weather-related damage? Is your building's roof old, worn out, or not up to code?
If the answer to either question is yes, then you need a reliable roof repair company that understands the damage that hail, tornadoes, and other extreme weather can inflict on your flat commercial roof in Kansas City, MO. Poor roof performance can result in mold, structural problems, and interior damage!
Trust the team at Kauffman Roofing for commercial roof repair services that prevent further problems from occurring. Our experienced roofing contractors approach every project with precision and care.
Commercial Roofing Installation
Every building needs a solid roof. At Kauffman Roofing, we offer quality commercial roof installation services to property managers and building owners across Kansas City, MO. We keep your budget in mind with competitive pricing and believe in strictly adhering to all building codes and regulations.
Commercial Roofing In Kansas City, MO
No matter your business or building size, Kauffman Roofing offers quality commercial roofing solutions in the Show Me State. We'll work with your architects and contractors to develop a customized roofing plan for your new commercial construction. And if you currently own an existing commercial structure requiring roof installation, roof repair, or roof maintenance, we'll be on hand to help.
Roof Leak Repair In A Hurry
Roof leaks are one of the most common problems encountered by home and business owners. A leaky roof is a serious nuisance, and if left untreated, can cause a tremendous amount of damage to a home or commercial property. For roof leak repair in a hurry, trust Kauffman Roofing in Kansas City, MO.