Proper Care of Flat Commercial Roofs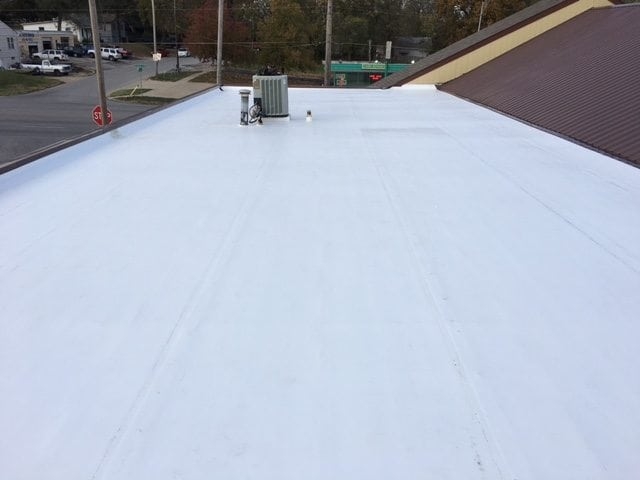 Kauffman Roofing in Jamesport is here to offer some pointers for proper care of flat commercial roofs. Commercial roofing is our area of expertise, so if you are new to owning a flat commercial roof building or have one that needs some TLC, let us help out with expert solutions. Our team of roofing contractors is industry certified with an understanding of the products, materials, and tools of the trade. We can get your commercial roof back up to par.
For now, check out the information below on proper care of flat commercial roofs and learn how to avoid further damage to your flat commercial roof this year.
Keep Off
Even though you may think that taking a look at your roof yourself may be a good idea, walking on it may cause more damage than good. Only a skilled and experienced roofer should perform commercial roof inspection services. They will be able to understand what's below the surface and navigate carefully and skillfully. The less it gets walked on the better, not to mention safer. It's recommended to have a commercial roof inspection 1-2 times annually to ensure everything is in order, or to uncover issues that require immediate commercial roof repair.
Don't Procrastinate
At the first sign of a commercial roof problem, contact your trusted roofer. Waiting or delaying will only make the problem worse. A minuscule problem can quickly become an enormous one when it comes to commercial roofing. Even if the problem appears to disappear, that may mean that it has progressed and is now degrading other parts of the roof, too. This can only add up to costlier repairs which will undoubtedly occur. It is better to call right away for help will any and all commercial roof issues.
Don't Do It Yourself
Unlike a residential roof problem that can damage personal items, a commercial roof problem can damage products and supplies amounting to a hefty sum. The sooner that you can address the problem, the less time and money spent. Save your company from wasted downtime and an unnecessary building closure by calling your trusted and skilled roofers at Kauffman Roofing, the sooner the better.
Even if you are skilled at residential roofing repairs, that does not qualify you to deal with commercial roofing, as they are an entirely different animal. Only a professional roofer is capable of:
Understanding the myriad of differences in materials and products used for commercial roof repairs and how to use them properly to bring about lasting results
Avoiding amateur mistakes that can ultimately do more harm than good
Ensure warranties on roofing are upheld and not voided due to inferior workmanship
Hopefully, you can see the value in the proper care of flat commercial roofs from Kauffman Roofing. As your commercial roof contractor, we are dedicated to providing you with the highest quality roof services and materials. Contact us with your commercial roof problems and let us take care of everything for you.