Roof System Types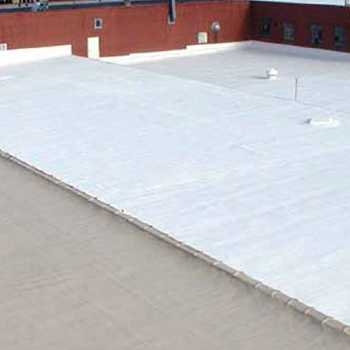 There are two roof system types: low slope and steep slope. Low slope roofs are weatherproof roof membranes installed on slopes less than 14 degrees. Steep slope roofs are water shedding types of roofs installed on slopes more than 14 degrees. At Kauffman Roofing in Jamesport, we specialize in repairs, preventative maintenance, and roof replacement of all kind of roofs. Today, let's look at what kind of roof fits your needs.
Low Slope Roofing
According to an article from The National Roofing Contractors Association, out of the two roof system types, low slope roof membranes actually come in five sub-types.
1. Built-Up Roof (BUR) Membranes
These roof systems have been used in the United States for more than a hundred years and are commonly referred to as tar and gravel roofs. They are made up of alternating layers of bitumen and reinforcing fabrics to make the membrane. Sometimes a base sheet is mechanically fastened first. Built up roofs generally are considered to be fully adhered if applied directly to roof decks or the insulation. The reinforcing fabrics also are called roofing felts or ply sheets with either glass-fiber mats or organic mats.
The bitumen used is asphalt, coal tar, or cold-applied adhesive. For the asphalt or coal tar, it is heated in a kettle or tanker and then put on by a mop or mechanical spreader. Cold-applied adhesives are solvent-based asphalts that don't have to be heated.
Surfacings for built-up roof systems use aggregates like gravel, slag or mineral granules, glass-fiber or mineral surfaced cap sheets, hot asphalt mopped over the entire surface, aluminum coatings, or elastomeric coatings.
A hybrid roof system is composed of a built up roof membrane with two or three plies and a polymer-modified bitumen membrane cap sheet.
2. Metal Panel Roof Systems
This type is used for low slope roofs because of their hydrostatic or water barrier characteristics. They can also be used for steep slope roofs. Most structural metal panel roof systems are designed to resist the passage of water at laps and other joints.
Structural metal panel roof systems are installed over a large variety of substrates like a continuous or closely spaced decking that provides solid support for the metal roof panel or one composed of spaced structural supports like purlins where the metal panels span between supports. Metal panels are often used over spaced structural supports without being supported by a solid roof deck.
Felt paper or underlayment is installed over the roof deck before putting on the metal panel roof system. It provides temporary weather protection until the metal panel roof is installed, and a secondary weatherproofing barrier if moisture gets in the metal roof panels.
3. Polymer-Modified Bitumen Sheet Membranes (MB)
These roof membranes have reinforcing fabrics that hold the hot polymer-modified bitumen which is manufactured into a roll material. They have multiple layers and are installed as a two-ply system and fully adhere.
They can be installed in hot moppings of asphalt or cold adhesive. They are often heat-welded or torch-applied. Usually, surfacings for MB membranes have aggregate surfacing, mineral surfacing, metal foil laminate surfacing, or smooth liquid-applied surfacing.
A hybrid roofing system or a polymer modified bitumen membrane system is a membrane with 2 plies or 3 plies and a polymer-modified bitumen membrane cap sheet.
4. Single-Ply Membranes
This type of roofing is a factory-manufactured sheet membrane and is either thermoplastic or thermoset.
Thermoplastic membranes can be repeatedly softened when heated and hardened when cooled. They are produced by calendering, extruding, or spread coating and may contain reinforcement layers like polyester fabrics or scrims, glass fiber, or a felt or fleece backing. The chemical nature allows it to be seamed by heat welding with hot air or solvent welding.
They are installed fully adhered, mechanically attached, or held down with ballast, but don't use surfacings. A combination of attachment methods is used to secure a roof system. The polyvinyl chloride (PVC) and thermoplastic olefin (TPO) membranes are more often used.
Thermoset membranes use principal polymers that are chemically cross-linked, vulcanized or cured, which means they can only be bonded to similar materials with adhesives.
Types of thermoset roof membranes include ethylene propylene diene terpolymer (EPDM) which is the most popular, chlorosulfonated polyethylene (CSPE), epichlorohydrin (ECH), neoprene (CR), and polyisobutylene (PIB).
5. Spray Polyurethane Foam-Based (SPF) Roof Systems
These types of roofs mix and spray a two-component liquid that forms the base of an adhered roof system with varying thicknesses using a slope to drain. The first part is a rigid, closed cell, spray polyurethane foam insulation. The second part is a protective surfacing spray elastomeric coating which is applied to the foam to give protection from the weather, UV exposure mechanical damage and are fire resistance.
Coatings used are acrylic, butyl rubber, Hypalon, silicone, aromatic polyurethane elastomer, aliphatic polyurethane elastomer, modified polyurethane elastomer. Mineral granules or sand can be put in the coating for surface durability and design.
Most low-slope roof membranes have a weatherproofing layer to keep water away. Reinforcement adds protection from punctures and adds strength and stability to the membrane. The surfacing helps stop sunlight and weather from getting to the weatherproofing and offers reinforcement. In addition, the surfacing can increase fire and hail resistance and solar reflectivity.
Steep Slope Roofing
The steep slope roof system types are made up of individual pieces or components installed in shingles, including asphalt shingles, slate, clay tile and concrete tile, steep-slope metal roof systems, wood and shake shingles and synthetic.
These roof systems have a roof deck which is the structural substrate and usually is plywood or oriented strand board (OSB). There is an underlayment like felt or paper, which gives the roof protection until it is installed and helps as a weatherproof barrier. There is also a roof covering which is the outer water shedding material.
A roof is an important investment. Our expert roofers at Kauffman Roofing in Jamesport can offer both roof system types: low slope and steep slope. While we specialize in repairs, preventative maintenance, and roof replacement, we have also customized our efforts to go beyond just being a capable roofing company, to one that offers full concept design services including needs assessment, specification writing, and value engineering options.