The Value of an FM-Approved Commercial Roof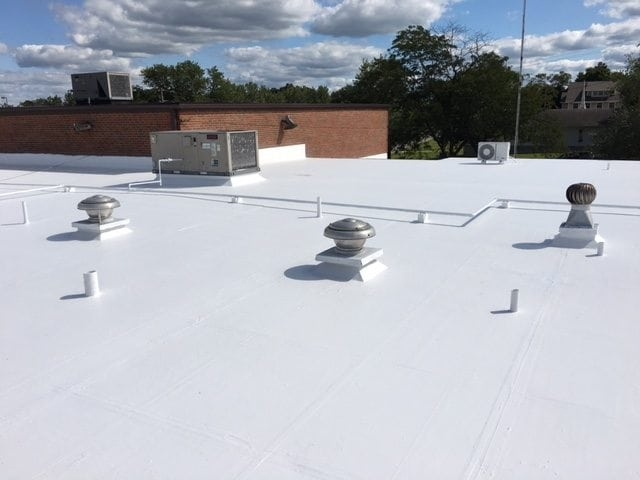 At Kauffman Roofing in Jamesport, we offer quality commercial roof installation and repair services, so we understand the value of an FM-approved commercial roof. Every building needs a solid roof. FM-Approvals is a leader in certification and approval of roof assemblies. According to an FM-Approvals article, it is the only organization in the world that tests complete roof assemblies when subjected to multiple perils such as fire testing above and below the deck, water leakage, hail-damage testing, accelerated weathering, wind-uplift testing, foot traffic and corrosion-resistance testing of metal parts.
There are many benefits to using FM-approved roofing.
The FM-Approvals article explains the FM-Approvals performance-based testing ensures prevention of real-world property loss when it is installed properly. Large-scale wind uplift testing provides a true measure of the roofing performance. FM-approved commercial roofing products are available almost everywhere now and most local certification agencies have adopted the FM-Approval Standards, including the wide range of roofing-related standards which even supports innovative green building designs, including vegetative roofing, and flexible and rigid photovoltaic systems. The FM-approved roof assemblies are listed in FM-Approvals' RoofNav® online tool offering access and accuracy for roofing professionals.
The FM-approved roofing helps avoid hazards.
Your commercial roof should be strong enough to protect your building from hazards like rain, snow, winds, hail, and extreme temperatures including fire. For example, a strong wind blowing over your roof creates lift, which can cause turbulence and dynamic stresses. Sometimes the powerful vortices and eddies, churning like tornadoes, blow along your roof's corner and perimeters. Their strength can pull at your roof's flashing, insulation, covers and underlying structure.
If this causes a roof failure, it can affect not only the building's roof but also the walls, windows, and doors. If the damage is too extensive, your business may not be able to recover because not only is there the cost to repair or replace your commercial roof but also your building's contents can be exposed to flooding, winds, and contamination, which increases your loss.
But if you can prevent this loss, you'll benefit from the value of an FM-Approved commercial roof. FM-Global continually works to find ways to help companies facing these threats by strengthening their roofs and other components of the building envelope. FM-Approvals' goal is to help you avoid these losses by continually improving the standards. Another goal is to find ways to make it easier for designers, architects, and contractors to specify and install all FM-Approved roofing systems.
FM-Approvals' goal is to create approval standards and FM-Approved products that encourage sustainable building practices, like green roofs, building-integrated photovoltaics (BIPV), and skylights to make use of daylight.
The testing required for FM-Approval must meet:
The interior fire performance requirements. It uses the FM-Approvals Construction Materials Calorimeter Test, which is the only such test in the world and was developed from years of research and testing. It was adopted by NFPA as NFPA 276. It's a pass or fail test. A rating of Class 1 is given if the roof assembly passes.
The exterior fire performance requirements. It uses the ASTM E 108 test method for an A, B or C rating. The wind performance using ANSI/FM 4474 for ratings starting from 60 psf up to 990 psf. Hail, corrosion, and accelerated weathering performance uses FM-Approvals test methods. Ratings used for hail are MH (moderate hail) and SH (severe hail).
The testing analysis of natural hazards, as well as fire, on a roof assembly, and offers a fire-safe, wind-resistant roof capable of maintaining its integrity for many years.
According to the FM-Approval article, the FM-Approvals certification program is an investment that demonstrates a manufacturer's confidence in its products. FM-Approvals testing is considered among the toughest and shows a manufacturer's commitment and gives a recognized indicator of quality that is respected around the globe.
The fire and natural hazards ratings are specified.
In order to tailor the FM-Approved roof to your needs, the fire and natural hazards ratings are specified. Here's an example from the FM-Approvals article: a rating for a roof assembly could be 1-180 A SH. The "1" represents a roof assembly that passed the interior fire test; the "180" represents the wind performance rating for the roof in psf; the "A" represents the exterior fire rating, and "SH" represents severe hail rating.
An FM-Approved roof assembly is superior to a non-certified product or design because you will have the confidence that you are getting a tested roof assembly that meets high standards with a goal of preventing damage and loss from roof failure.
Our roofers at Kauffman Roofing can help you properly install FM-Approved products, so your roofing system can perform well during severe weather and hazard conditions, including wind uplift, fire resistance, and many others. It comes with the assurance that the components have proven quality, ensuring that the most important building envelope component will protect from fire, wind, and hail and protect your structure for a long time. FM-Approved roofing systems are specified and accepted by building owners, designers, and code authorities for good quality worldwide.
Accreditation's and audit standards add confidence and worldwide acceptance for FM-Approvals.
With the goal to prevent loss through standardized evaluations, the FM-Approval article shows that FM-Approvals has accreditation's recognized around the world by OSHA and IAS in the United States, SCC in Canada, UKAS in the United Kingdom, and Notified Body in the EU for ATEX and CPD. FM-Approvals demands rigorous product audit standards with its manufacturing partners to make sure the FM-Approved products provide property loss prevention solutions.
No matter what your business is or your building size, Kauffman Roofing in Jamesport offers quality commercial roofing solutions. We understand the value of an FM-Approved commercial roof because it is the only organization in the world that tests complete roof assemblies for multiple perils like fire testing above and below the deck, foot traffic, hail-damage testing, accelerated weathering, water leakage, wind-uplift testing, and corrosion-resistance testing of metal parts. We'll work with your architects and contractors to develop a customized roofing plan for your new commercial roof construction or we can work with your existing commercial structure if it requires roof installation, repair, or maintenance.